RESULTS RULE!® Be a Hero in a "Me Too" World
Your organization is either a hero, has-been, or wanna-be. That's where creating a Results Rule! culture will turn your uniqueness into a competitive asset that clears the playing field.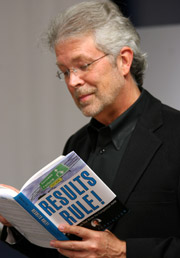 Results Rule! is all about getting focused on producing results year… after year… after year and breaking out of the "me too" club.
The marketplace never lies – Results Rule!
Randy Pennington is a 20+ year business performance veteran and an expert in helping companies build a culture focused on results. His insights align the strategic issues of relationships, accountability, and results to create a sustainable competitive advantage in a "me too" world!
The keynote:
Establish a clear distinction between you and… the other guy
Build and grow a culture focused on producing results
Create the catalyst for enhancing customer value and increased effectiveness in everything you do
A compelling culture is the competitive asset that sets you apart. Here's an opportunity to stop standing in the way of your own success.
Format:
Seminar or Workshop of 90 minutes to a full day.
Best Audience:
Anyone who is responsible for building and sustaining a strong culture.
Alternative Titles:
Results Rule!® Build a Culture that Blows the Competition Away
Change Your Culture – Change Your Results