Make Change Work
What could be different if you, your team, and your entire organization were constantly focused on adapting, changing, and improving your business?
Imagine the results – a nimble and engaged organization could achieve and how that will help you stay relevant in a competitive marketplace.
Make Change Work presents real solutions for thriving in a world of constant change. This isn't another book that tells you change is coming get ready for it.
It is a field guide to help you design and implement a strategy for leading change and delivering meaningful business results.
Make Change Work was named Best in General Business by the 2013 USA BEST BOOK AWARDS!
Results Rule!
Learn to build a successful culture within your organization!
Results Rule! provides strategies and concepts to create a culture that sets your organization apart in a marketplace where products and services are increasingly seen as being interchangeable.
For a sustainable competitive advantage, Pennington provides real-world strategies to:
Focus energy on the fundamentals of good business
Leverage the power of partnerships with customers and employees
Encourage your workforce to do what's best rather that what's easiest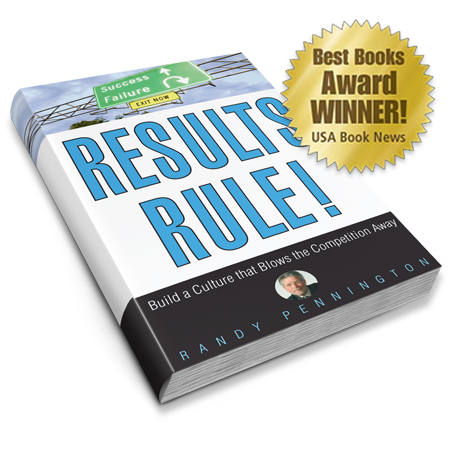 To buy Results Rule! click on one of the links below:
Click here for more information about ResultsRule!: www.resultsrule.com
On My Honor, I Will
This powerful book, praised by leaders from many walks of life, lays out a clear path for leadership effectiveness and success in a turbulent, changing world. On My Honor, I Will shows how simple, time-honored principles can transform your personal performance, relationships with others, and ability to build an organization, family, or community that is known for integrity and honor.
Citing real-life examples from leaders such as Ross Perot, Mary Kay Ash, Rex Tillerson, and Judge William Sessions, as well as corporate examples from Johnson & Johnson, RTI/Community Management Associates, and others, Randy Pennington provides current and future leaders a step-by-step process they can use to:
Build trust and stronger relationships with others
Respond to questionable situations and recover from ethical lapses in business and life
Gain a competitive edge in business without sacrificing your principles
Create a personal and organizational foundation that instills pride, loyalty, and a commitment to doing what is right from the inside out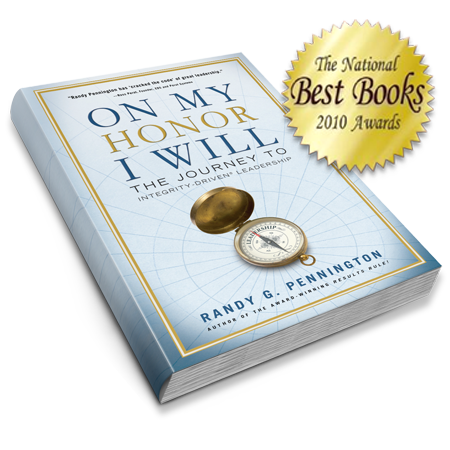 "Randy Pennington has 'cracked the code' of great leadership."
Buy On My Honor, I Will: The Journey to Integrity-Driven®Leadership by Randy G. Pennington